Flat tip Fusion Hair Extensions Pure Color Bleach Blonde Remy Hair #60
Details
Ugeat® Flat Tip Hair Extensions
Hair Quality: Ugeat flat tip hair extensions are made of 100% real human hair. No mixed animal or synthetic hair. Feel silky and soft. Can be straightened, curled, washed and restyled as you like.
Hair Texture: Natural straight, and have a natural wave when wet or left to air dry or diffused.
Weight: 50g/100g per pack. Usually, 100-150g is enough for a full head, if you need to add both length and volume, we recommend 150-200g.
Easy Style: Hair can be trimmed, dyed, washed, curled, straightened, the temperature is better under 180 degrees C for a short time; Hair life usually last 2-4 months. We recommend professional application and remove to minimize any harm to your hair and the extensions.
Good Hard Bond: The bonded ends are made using excellent Italian Keratin glue, which is gentle on your hair and also provide a good hard bond. It's installed by hot fusion and durable. A specific solvent allows you to remove the keratin extensions easily.
About color difference: Because of the different lights and monitors, there may have a little color differences between the real item and the picture, thanks for your understanding.We could recommend you suitable color.

Details of Ugeat Flat Tip Hair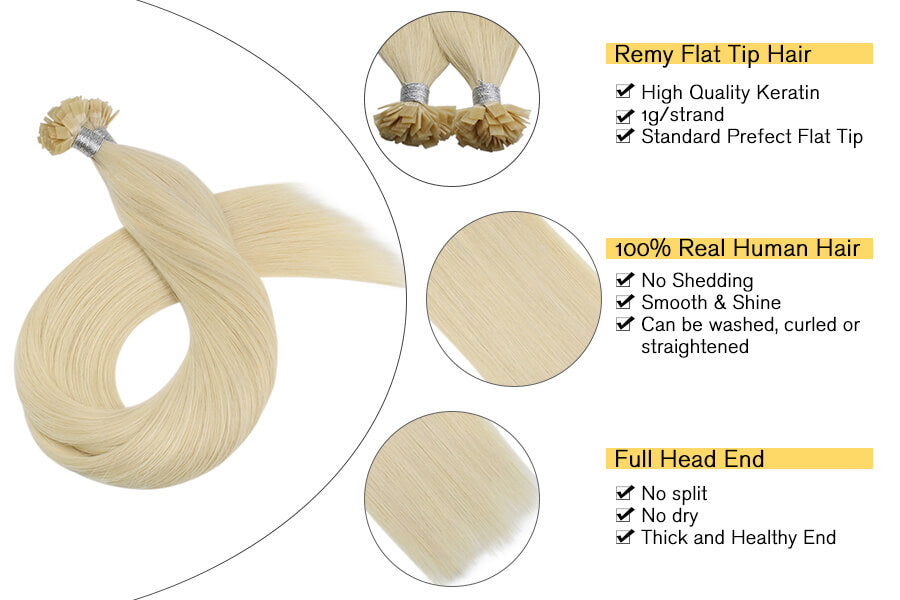 How long should I choose?
How to Apply Fusion Hair Flat Tip Hair Extensions?
1.Brush dry the hair out completely with an extension brush before entering the shower and before bedtime. It prevents extension matting and tangling, and spreads nourishing oil throughout the extensions.
2.Wash every 3 to 4 days and do not wash your hair upside down. Do not scrub hair aggressively. Do not get shampoo or conditioner on the bonds.
3.Use good quality hair shampoo. Stay away from ones that contain sulfur and alcohol as it breaks down the bond faster than desired. Use conditioner and hair mask regularly to prevent dry and split.
4.Use a thermal heat protectant solution when styling hair. Do not flat iron or apply excessive heat to the bond itself. Remember that it was installed with heat!
5.Never fall sleep on wet hair extensions. Make sure the hair and bonds are dry before bedtime to avoid matting.

Flat Tip, U Tip, I Tip 
Flat-tip and
U-tip
hair extensions are only different in shape, but their application methods are the same.
Flat-tip hair extensions need to be applied with heating tools, which is the same as U-tip. The heating tool melts the keratin, and the stickiness of the glue will stick the hair extension to the hair stand. After cooling and waiting for 24 hours, you can wash your hair as usual without worrying about the hair falling off easily.