Discount code usage guide
Automatic discount
Currently, there is only one automatic discount in our shop: Buy one get one.
Its use is very simple: You only need to add two items (within the scope of the clearance products) in the shopping cart, the system will automatically reduce the cost of one item, and you do not need to manually enter the discount code.
For example:
Note the yellow prompt box in the picture: A discount has been applied to this order. You can't add another discount.
Only one discount code can be used for each order. If you want to get buy one get one free, but also want to use other discounts, you can order separately.
Discount Code
Most discounts in our shop are realized through discount codes.
Usually, when you enter the homepage of our website, you can see a very eye-catching banner, and there will be various icons in the navigation bar to remind you that such products are on sale.
For example: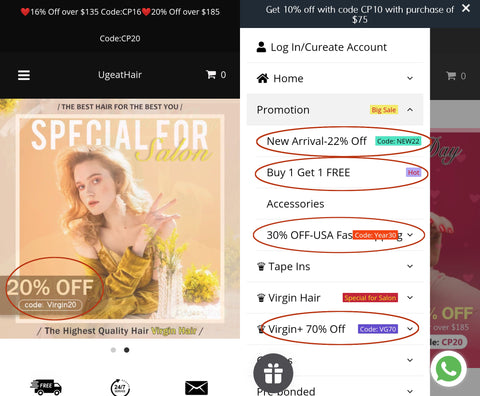 After you choose what you want to buy into the shopping cart, come to the checkout page:
The yellow box is the item and price in your shopping cart, and you can fill in the valid discount code in the red box below, and then click " apply".
Then you will see how much money you saved after using this discount code, and the actual amount you need to pay will be shown below.
 Note
The following points need to be noted when using discount codes:
Only one discount code can be used per order
Pay attention to whether the discount code has a time limit, if it exceeds the valid time, you will not be able to use it
Some discount codes have a minimum consumption amount, you can only use it when your order amount exceeds the minimum amount
Some discount codes can only be used once, and some discount codes can only be used once per person. If you are not sure whether you can still use the discount code you have used before, you can try it on the checkout page or contact us.
If you enters a discount code during checkout that does exist but doesn't apply to the products in their cart, then you will see the following disclaimer: _DISCOUNT NAME_ discount for the items in your cart.