Details
Ugeat® Tape in Hair Extension-Invisible & Seamless
Ugeat tape hair extensions use the latest technology in the ever-changing hair industry. Tape in hair extensions is a significant leap forward in hair extension application a full head of tape hair can be applied in under 30 minutes.
Ugeat Tape in Hair Details:
Hair Quality: 100% Remy Human Hair: Natural, smooth, soft, no tangle, and shedding free. Can be curled, straightened, washed, and cut.

Hair Type: Real Human Hair Tape in Extensions.
Hair Texture: Natural Straight, and have a natural wave when wet or left to air dry or diffused. Can be reused with replace tape. And we suggest adjusting the tape every 4 weeks to keep the hair stay well.
Tape Size: 0.8cm x 4cm
Piece Quantity: 20 pcs /40pcs per package
Piece Weight: 0.09 oz/2.5 grams
Total Weight: 50 grams /100gram per package
Warm Tip: 3-4 packs for a full look (with 50gram hair)
Ugeat tape hair extensions are 100% Remy hair extensions, Designed to be quick to install, easy to remove and re-apply with discreet & lightweight tape adhesive tabs, they are the most efficient & seamless method of semi-permanent hair extensions.
Fast: Each hair comes pre-taped in the package and requires no tools or heat. Installation is fast and can be done in as little as 30 minutes.
Seamless: Ugeat Tape-In Hair Extensions are seamless and smooth. They look and feel just like the user's natural hair.
No Damage: Tape-In extensions are very gentle on the hair. The medical-grade adhesive is specially formulated to attach securely and securely to the hair until the next move-up appointment.
Ugeat tape used in our hair extensions is a medical adhesive and is hypo-allergic-made in the USA. Our tape provides a secure application that can also be easily removed and/or for reapplication.
How to Choose The Length of Tape?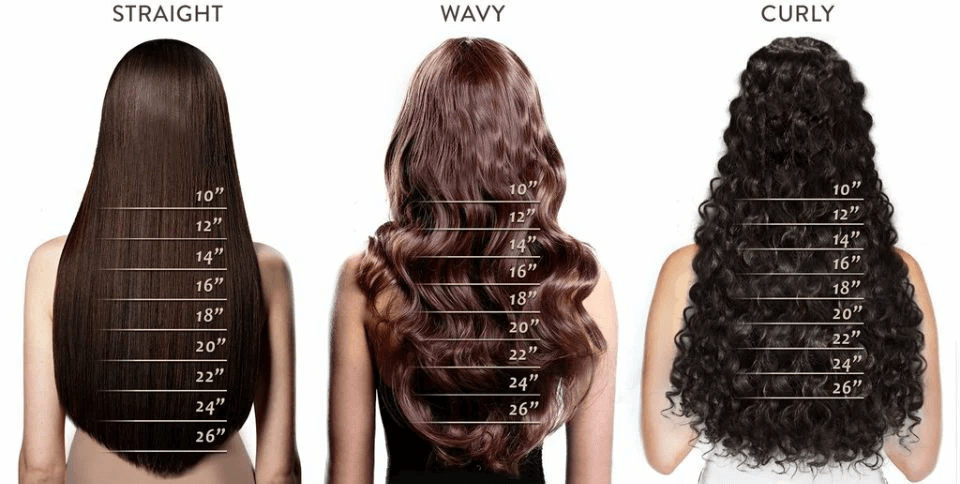 When choosing hair extensions to increase the length of your hair, always stay within four inches of your natural hair length for the most realistic blend.
How to Wear Tape in Hair Extensions?
You can wear it sandwiched in between two (2) pieces. For thinner hair types, you may apply just one (1) piece with single-sided tape.


Step 1: Apply a professional glue remover to your hair, where the tape residue is stuck. Or coat your hair with the oil to loosen the sticky adhesive.
Step 2: Wait 2 hours, the tape dissolves, which allows you to gently remove your hair extensions as easily as you were able to put them in.

Step 3:Then you can use new tape to refill the tape extension and can reuse the hair extension again.
Detangle hair gently before washing. Comb your hair extensions with a spacious wired comb; Do not comb or brush the hair extensions while hair is wet;
With warm water gently wet the extensions. Put shampoo (Light Color Shampoo No Purple Shampoo) with low or absolutely no sulfates on them.
Rinse out the shampoo.

Apply conditioner.

Once you've rinsed out the conditioner and they've dried, comb through the extensions so they're not tangled, You can leave the extensions out in the air to dry.
Do Not Rub or Twist hair when you wash them. Crush straight hair in a downward motion starting with the ends, work your way up to the roots. Hair may tangle if general care directions are not followed properly.
You won't need to wash them every night or even every second night; just once a week or once a fortnight should be fine.
1.Use a Sulfate-free shampoo
Never choose a shampoo that contains sulfate because it would do harm to your hair extensions. Sulfate is a common ingredient in lots of shampoo brands because it could create lather. However, this substance would omit the natural oil from the hair, thus making it become dry and frizzy. Therefore, to prevent the natural oil and moisture from reducing, it is better to use a sulfate-free shampoo.

2.Do don't forget to apply conditioner
Hair extensions frizzy after washing might also be the result of the lack of conditioner. Remember to use conditioner to hydrate your hair every time you shampoo it so that moisture could soak into each strand.

3.Apply nourishing oil to hair ends
To prevent hair extension from getting friction and frizz, try using nourishing oil. This oil will help to smooth the hair out and add gloss and shine to your extensions. It will soak deep into the hair cuticle to add moisture and revitalize health and vibrancy.