Tape Extensions Balayage Brown with Blonde Color for Thickness #6/60
Details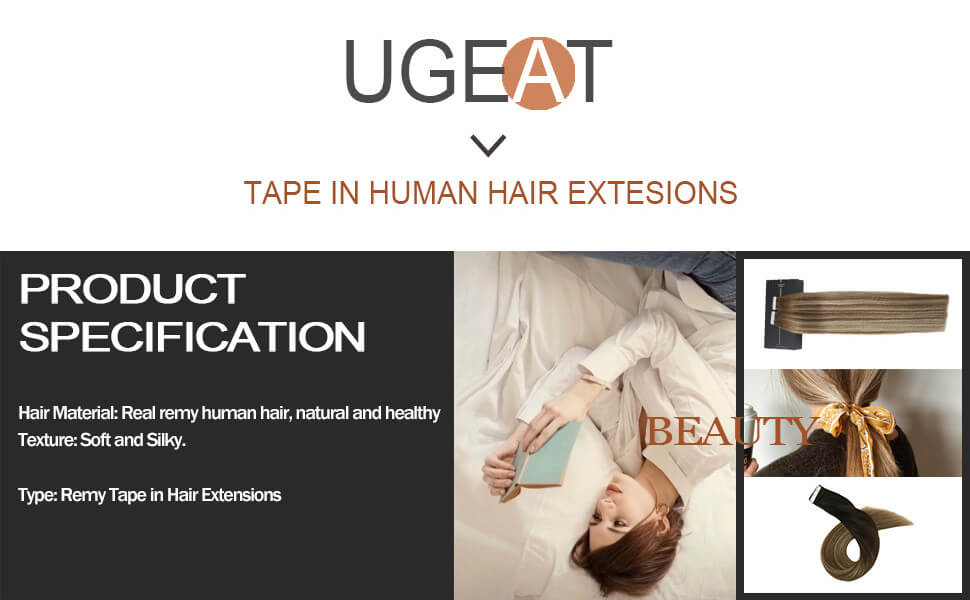 UGEAT TAPE-IN HAIR EXTENSIONS---INVISIBLE & SEAMLESS
Ugeat tape hair extensions utlise the latest technology in the ever changing hair industry. Tape in hair extensions are a significant leap forward in hair extension application ¡§C a full head of tape hair can be applied in under 30 minutes.

Providing a hair extensions system so easy, quick and efficient to apply, it has fast become the hair extension product of choice for both consumer and hair stylists worldwide.
Why Choose Ugeat Tape in Human Hair Extensions?
Ugeat tape hair extensions are 100% Remy hair extensions, Designed to be quick to install, easy to remove and re-apply with discreet & lightweight tape adhesive tabs, they are the most efficient & seamless method of semi-permanent hair extensions.


Fast: Each hair comes pre-taped in the package and requires no tools or heat. Installation is fast and can be done in as little as 30 minutes.
Seamless: Ugeat Tape-In Hair Extensions are seamless and smooth. They look and feel like just like the user?¡¥s natural hair.
No Damage: Tape-In extensions are very gentle on the hair. The medical grade adhesive is specially formulated to attach securely and securely to the hair until the next move-up appointment.

Ugeat tape used in our hair extensions is a medical adhesive and is hypo-allergic ¡§C made in the USA. Our tape provides a secure application that can also be easily removed and/or for reapplication.
Once hair is ??sandwiched?¡¥ in between two (2) pieces. For thinner hair types, you may apply just one (1) piece with single-sided tape.
Product Details:
Hair Quality: 100% Remy Human Hair: Natural, smooth, soft, no tangle and shedding free. Can be curled, straightened, washed and cut.

Hair Type: Real Human Hair Tape in Extensions.
Hair Texture: Natural straight, and have a natural wave when wet or left to air dry or diffused. Can be reused with replace tape. And we suggest to adjust the tape every 4 weeks to keep the hair stay well.
Tape Size:0.8cm x 4cm
Piece Quantity: 20 pcs /40pcs per package
Piece Weight: 0.09 oz/2.5 grams
Total Weight: 50 grams /100gram per packag
Warm Tip
: 3-4 packs for a full look (with 50gram hair)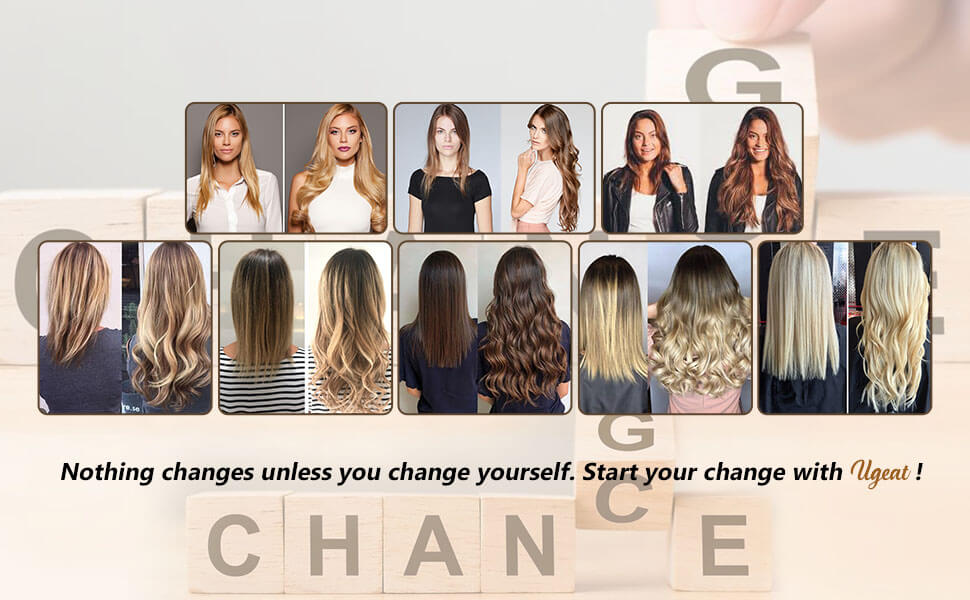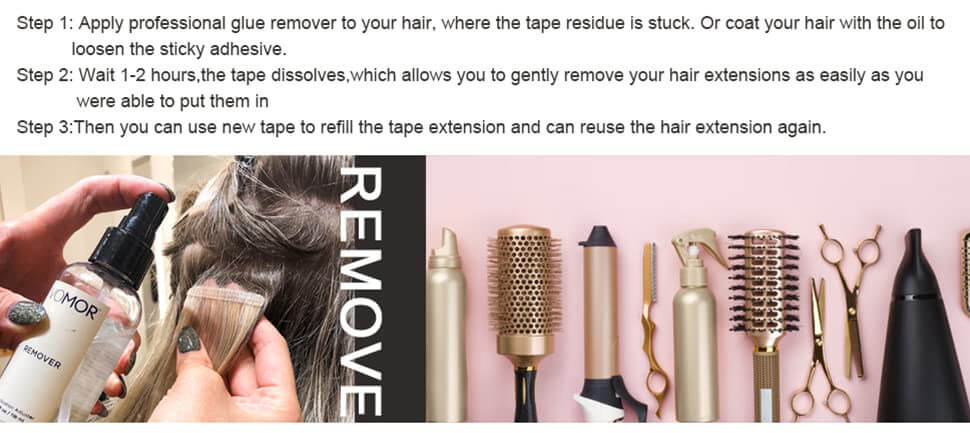 Detangle hair gently before washing. Comb your hair extensions with a spacious wired comb; Do not comb or brush the hair extensions while hair is wet.;
With warm water gently wet the extensions. Put shampoo (Light Color Shampoo No Purple Shampoo) with low or absolutely no sulfates on them.
Rinse out the shampoo.Apply conditioner.Once you've rinsed out the conditioner and they've dried,comb through the extensions so they're not tangled# You can leave the extensions out in air to dry.
Do not Rub or Twist hair when you wash them. Crush straight hair in a downward motion starting with the ends, work your way up to the roots. Hair may tangle if general care directions are not followed properly.
You won't need to wash them every night or even every second night; just once a week or once a fortnight should be fine.