Answered All Your Questions About Beaded Weft Extensions
Micro Beads Weft Hair Extensions
What are Microbeads Hair Extensions?
Micro beads are a kind of hair bundle. Compared with ordinary hair bundles, the wefts of beaded weft hair extensions use tiny micro rings to attach the weft to your natural hair. Connect your hair to the micro rings and place it flat on your head to increase the volume and length of your hair. No destructive tools are involved, and the application also doesn't take that long.
What's the difference between Sew in Hair With Beaded Weft Extensions?
The tops of hair bundles are sewed together by machine or by hand, forming a panel that can then be wrapped unto your head. There are many ways to install hair extensions of this category, which can be used through film/glue, clip, micro beads, and sew in directly. It is a very popular hair extension!
The biggest difference between "Beaded" weft and hair bundles is that micro beads are sewn directly on the head without the use of glue, heating, tape chemicals, etc. It protects our own hair to the greatest extent.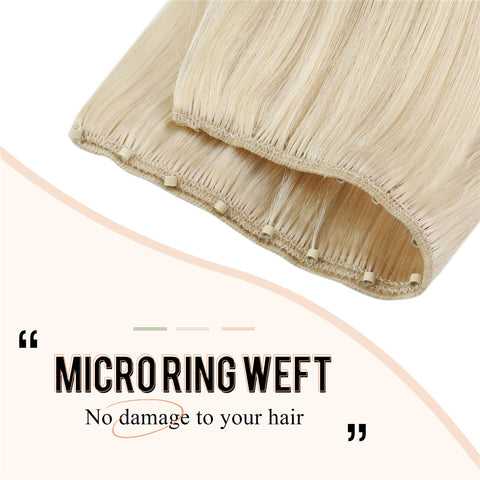 The Benefits of Beaded Weft Hair Extensions?
Microbead hair extensions do not use any heat or glue to fix them on the hair. Compared with other application methods, they are no harm to the hair.
The microbeads are durable and are made of lightweight silicone lining to minimize the weight of the hair follicles. The lighter the weight = the less damage!
Use small beads to connect the weft to your hair and scalp, and weave it close to the head, so it is almost impossible to detect.
The bead extension is easy to disassemble and adjust.
Beaded hair extensions are easy to clean and style.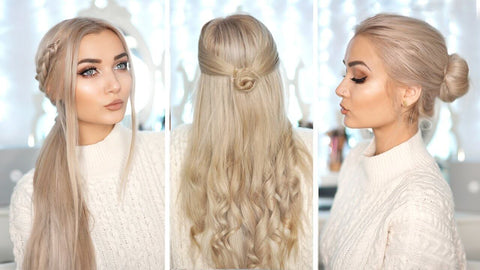 How to Apply Microbead Hair Extensions?
The installation method of Micro Beads wefts hair extensions is simple. However, because you cannot complete the operation by yourself, it is best to find a professional hairdresser to install it.
⭐ Place the weft to where you want it to be. And then, use the clippers to secure it at two sides of the weave.
⭐ Start from the middle and collect a few strands of your hair with hair from the weft with the same amount.
⭐ Slip one bead onto the loop and pull the collected hair through the loop. And then, insert the hair into the ring, and then slide the bead up to the top, just underneath the stitching.
⭐ Using the plier, try to clamp the microbead ring and push it up and back to a zero-degree angle.
⭐ Repeat these steps with the rest of the wefts and finish. Take note that you need to move up your weft after two or three months, based on your hair growth. In the first week of wearing micro ring weft extensions, you might start to feel tight on your head. Once you're used to it, you'll love how realistic it looks.
Does Beaded Wefts Ruin My Natural Hair?
NO! The beaded weft is very soft. They are not particularly heavy, nor do they feel that they are pulling on your hair or scalp. When you remove the extension piece, the beads will open and your natural hair will slide out without breaking or pulling out.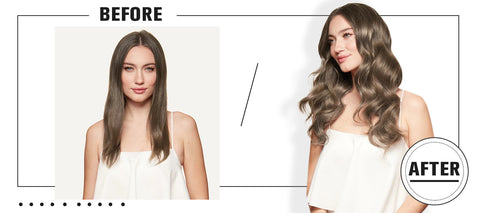 How long do micro bead weft hair extensions last?
The extended life span largely depends on how you take care of them. If you mess up your hair and don't treat it properly, it won't last. Due to the natural hair growth, the hair extension ring will become obvious after the hair grows. You need to perform hair extensions every 6 to 8 weeks, depending on the natural growth of your hair. As the hair grows, the hair will grow out. When you are ready to move them up, your stylist can remove these extensions and put them back in place. You don't have to buy new hair every time, as long as you take care of it! Some people's extension is in the past 6 months, some people are more than a year.
How to Care Micro Beaded Weft Hair Extensions?
🕑 Detangle hair gently before washing. Comb your hair extensions with a spacious wired comb; Do not comb or brush the hair extensions while hair is wet;
🕑 With warm water gently wet the extensions. Put shampoo
(Light Color Shampoo No Purple Shampoo) with low or absolutely no sulfates on them.
🕒 Rinse out the shampoo. Apply conditioner. Once you've rinsed out the conditioner and they've dried, comb through the extensions so they're not tangled, You can leave the extensions out in the air to dry.
🕓 Do Not Rub or Twist hair when you wash them. Crush straight hair in a downward motion starting with the ends, work your way up to the roots. Hair may tangle if general care directions are not followed properly.
🕔 Do not wash your hair too frequently. You won't need to wash them every night or even every second night; just once a week or once a fortnight should be fine.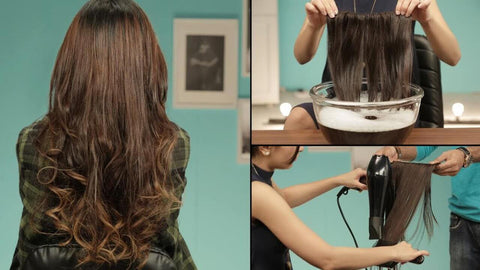 And Finally!
Ugeat Micro Ring Weft is made of 100% human hair extension. It will not cause any damage to your natural hair. You will not regret choosing Ugeat hair. If you have other questions, you are also welcome to contact us at any time.
Learn More:
|
Posted on September 10 2021