What are the Differences Between I-Tip, U-Tip, Flat-Tip Hair Extensions?
Keratin Tipped Hair Extensions
As an official website specializing in the sale of 100% human hair, we frequently encounter this question. In the upcoming section, we will provide an elaborate explanation of the distinctions among the three. To comprehend their differences, it is essential to have a clear understanding of what each of them entails.
Pre-bonded hair extensions, also referred to as keratin or fusion hair extensions, enjoy widespread popularity among hair enthusiasts. This variant of hair extensions is affixed to the hair by either heating the keratin tip or utilizing a connector(micro beads) to attach it to your natural hair.
What is I-tip hair extensions?
I-tip/stick hair extensions have a distinctive "I" shape at the top of the strand. These extensions are applied using micro rings and fastened to your hair with pliers. This method is also commonly referred to as Cold Fusion hair extensions.
What is U-tip hair extensions?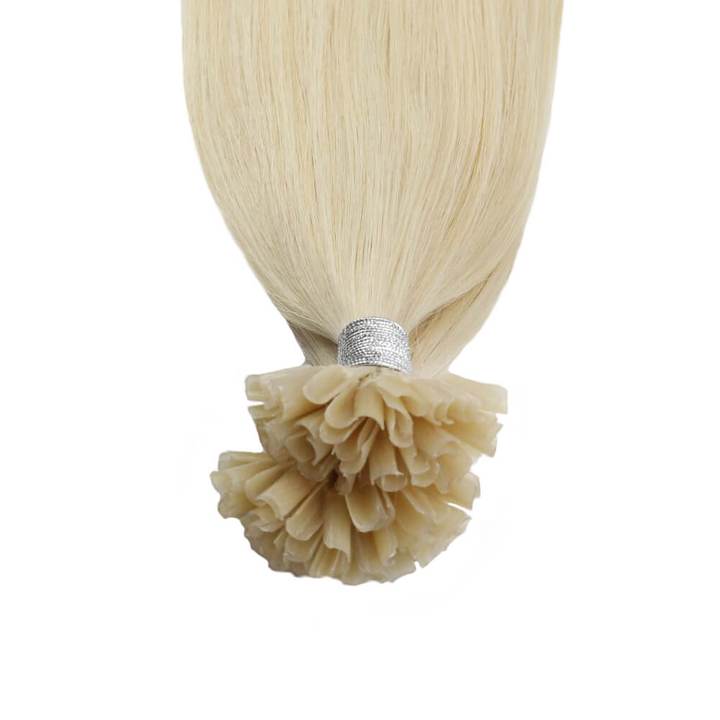 U tip/nail tip hair extensions feature a top portion shaped like a "U." These extensions are affixed to the hair through a heating process, where a hair expert utilizes the appropriate tools at the correct temperature to attach the strands to your natural hair. This technique is also commonly referred to as Hot Fusion hair extensions.
What's the difference between I tip and U tip extensions?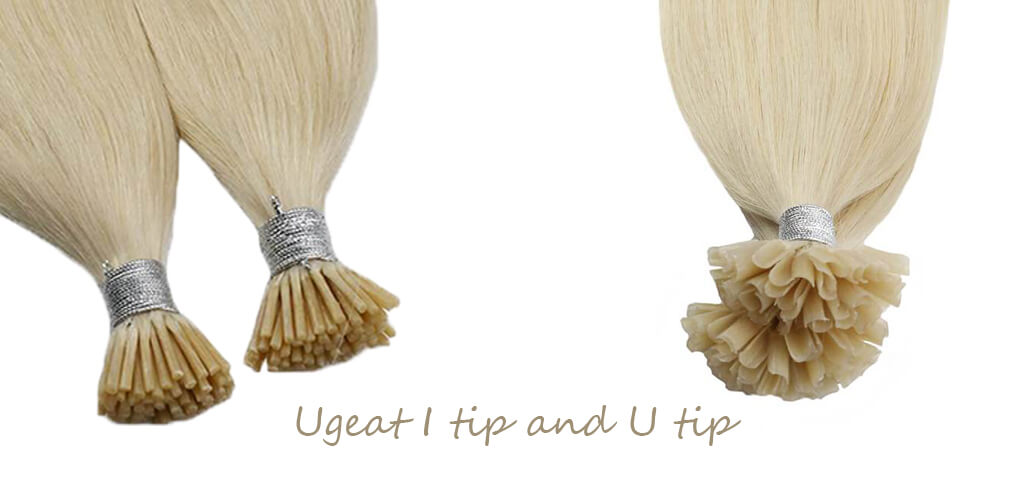 Based on the aforementioned description, you might gather that I tip extensions are typically attached using micro-rings, while U-tip extensions involve heat fusion. However, this isn't a strict rule. On occasion, your technician might use heat to apply I-tip extensions, which is contingent upon your hair type.
Let's go on.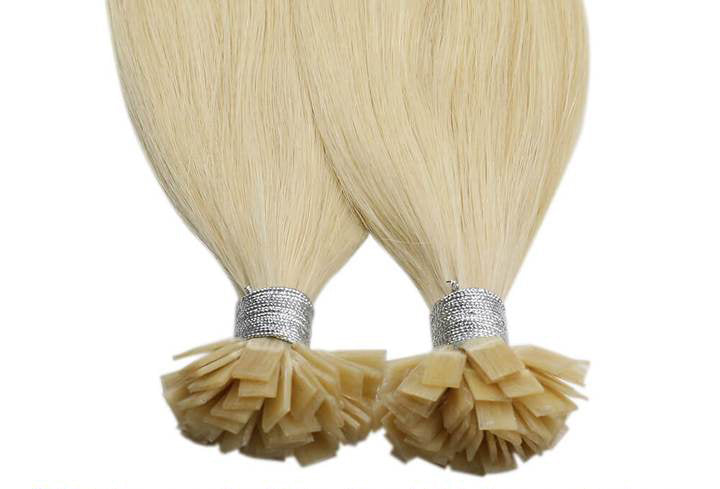 Flat-tip hair extensions share a strong resemblance to U-tip extensions as they both involve the heat application method. The key distinction lies in their shape, with Flat-tip extensions being flat in design.
By now, you should have a comprehensive understanding of their distinctions. So, which type of hair extension is the optimal choice for you among I-tip, U-tip, or flat-tip extensions?
Conventional I-tip hair extensions are affixed using a Micro-Ring method that involves threading your hair through a small metal base called Micro Loop Hair Extensions. This loop is typically crafted from copper or aluminum, which can potentially damage your hair's cuticles. Particularly for individuals with curly or coarse hair, this process can result in tangling, knotting, and challenging removal. As a result, Micro Rings might not be the most suitable choice for those with naturally "springy" hair textures.
U-tip and Flat-tip hair extensions necessitate the use of a heating tool to melt the keratin for application. While these tools utilize only a fraction of the heat generated by standard curling and flat irons, and they are in contact with the hair for only a brief duration, you may possess delicate or compromised hair that you wish to shield from heat exposure.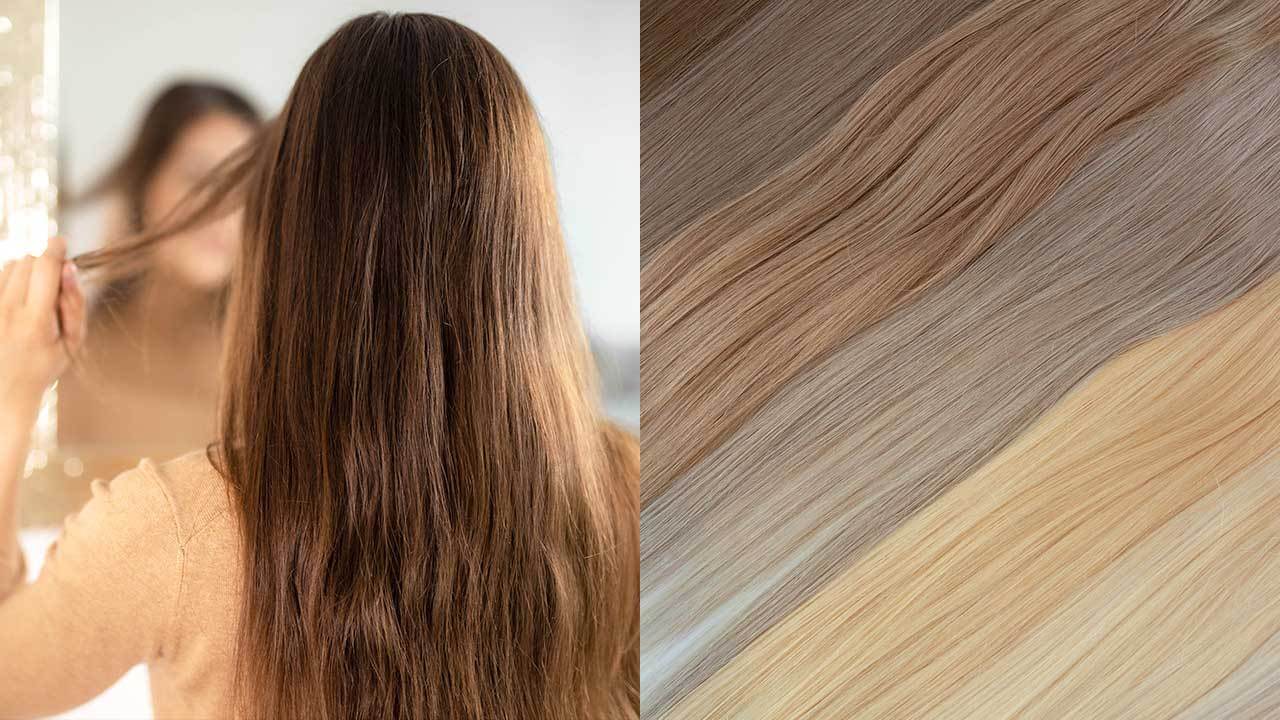 It's evident that individuals with varying preferences may require specific types of hair extensions. The "best" option according to popular opinion might not align with what's truly optimal for you. Selecting the most fitting and aesthetically pleasing method should be based on your unique hair quality. If you have any further inquiries, don't hesitate to reach out to Ugeat Hair or consult with your professional hairstylist. Of course, this consultation comes at no cost.
Learn More:
|
Posted on January 18 2021