Answered All Your Questions About Micro Loop Hair Exrtensions
Micro Loop Hair Extensions
What is micro ring hair extension?
Micro loop hair extensions are also called micro ring hair extensions. It can be installed by using the plastic ring that comes with hair extensions. When installing, only need to pull out the natural hair through the pre-connected copper ring, and the ring will be clamped tightly on the customer's hair. Therefore, it is a kind of friendly hair extension for your natural hair.

The advantage of micro loop hair extensions.
Easy to Remove & Adjust: micro loop hair extensions are the easiest to install among all pre-bonded hair extensions. The installation process can be completed with the help of a pair of pliers.
No Harm to Natural Hair: Tiny, silicone lined aluminum rings hold the extensions securely in place, without the need for any harsh glues or chemical
More Invisible: The micro ring is much smaller in size. It makes hair look more seamless and natural.
More Natural: Add volume naturally seems like it grows from your scalp, beads color is similar to hair color
Does micro loop hair extensions is harm to my natural hair?
No. Microring hair extensions won't do any harm to your natural hair. Because it doesn't need to use glue and other chemicals during the installation process, nor does it need to be heated. Therefore, it will not cause any harm to your natural hair.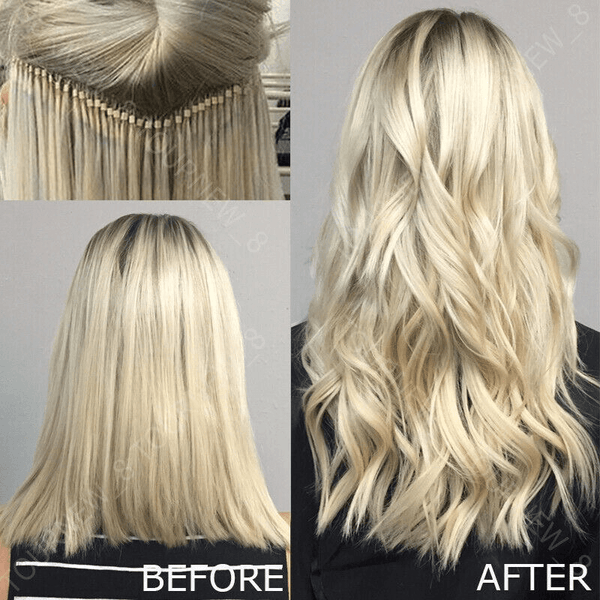 The differences between micro loop and i-tip hair extensions?
Micro loop hair extensions and i-tip hair extensions are pre-bonded hair extensions. Micro loop hair extensions can be installed completely through their plastic ring. Compared with i-tip hair extensions, it requires fewer tools to install, the installation method will be easier, and the installation time will be faster. The tip of I-tip hair extensions is a stick made of keratin. It can be installed in two ways: micro beads and hot melt tool, and has higher requirements for installation technology, so it is more favored by professionals.
How to apply for micro loop hair extensions?
Gather a strand of hair. 
With your free hand, take a micro ring extension and place the loop over your thumb and forefinger. 
Pull the natural hair through the fish line loop using your thumb and index finger. 
Hold the micro ring with one hand and the fish line loop with the other. 
Pull the fish line loop so that the natural hair begins threading through the micro ring. 
Pull the natural hair completely through the ring. 
Use the pliers to squeeze the ring shut. You need to squeeze quite firmly but is it not necessary to crush the ring closed. Too much force can damage the ring and also the hair. 
Repeat previous steps. You may place the extensions according to the person's head and hair type and the number of micro ring extensions you intend to use.

How to remove micro loop hair extensions?
Step1: Try to section out the whole row of micro loop. We recommend removing row by row.
Step2: Use the pliers to take hold of the loop and slowly squeeze in the opposite direction in which they were flattened.
Step3: Use the tail of your comb or your fingers, slowly prise apart the hair loosening the tangle.
Step4: Once the cluster has been pulled apart, it is now safe to comb through the hair. Make sure you do this for each extension, one by one.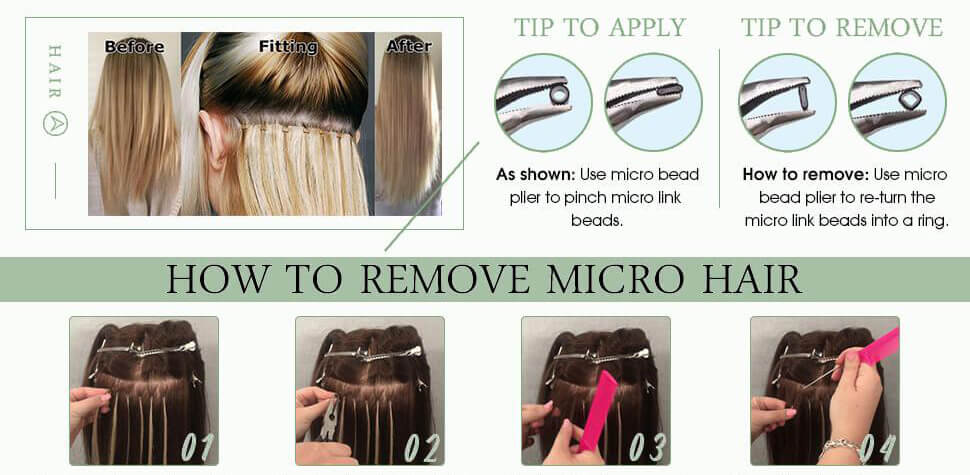 How many micro loop extensions do I need for a full head?
If the purpose of wearing hair extensions is to increase the length, you'll need 150-200g or 7-8 rows of micro-loop extensions. If it is to increase hair volume, you will need 100-150g or 3-4 rows of micro-loop extensions.
How to care for my micro loop hair extensions?
Wash your extensions with moisturizing hair care products: this will keep the moisture in from shampooing while at the same time not drying them out from over-shampooing.
Be Extremely Gentle: Combing or styling the extensions gently can avoid hair loss. Use a wide-tooth comb, start at the bottom and slowly work your way up.
Use Heat Protectant: Use a heat protectant on hair extensions to reduce the risk of heart damage. When using a hot iron, please keep the temperature

less than 150 Celsius

.
Deep Condition: Once a week, carefully put your extensions in warm water and apply a bit of conditioner all over. Leave for around 20 minutes then rinse and let dry naturally.
Keep Ends Trimmed: Because human hair extensions will easily get split ends. It is better to wash it

every 4-5 days

as careful as you are. To avoid letting the damage move up the hair shaft, trim the ends every

6 to 10 weeks

.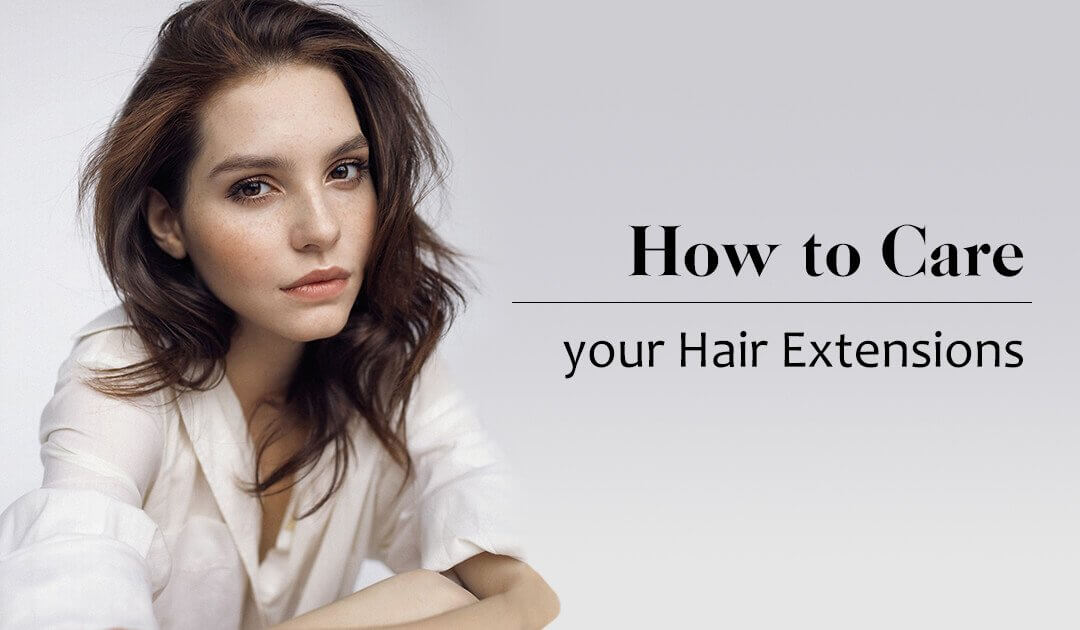 And Finally!
Ugeat micro loop hair extensions are made of 100% human hair extension, the micro beads attachments being tiny, virtually undetectable, pre-bonded micro beads cold fusion hair extension can be blended naturally with your natural hair. You will not regret choosing Ugeat hair. If you have other questions, you are also welcome to contact us at any time.
Learn More: