Flat Silk Weft Hair VS Hand-tied Weft Hair VS Machine tied Weft
Flat Silk Wefts VS Hand-tied Wefts VS Machine Made Wefts
When you step into a hair design store or factory, your attention might be drawn to various types of hair wefts such as Flat Silk Weft, Hand-tied Weft, and Machine-tied Weft. Ugeat is here to provide beginners with a comprehensive understanding of these hair extensions by highlighting their differences. So, invest just a few minutes in reading this post to easily distinguish between these hair wefts.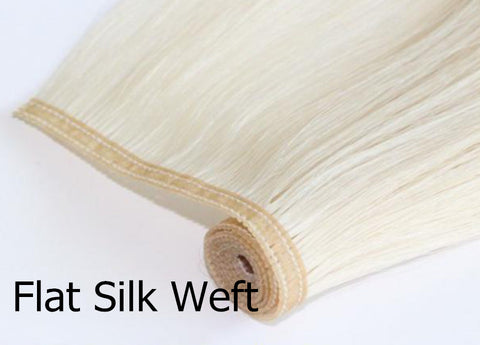 Flat Silk Weft represents a refined version of human hair wefts. To address concerns about hair shedding, manufacturers employ a double-stitched technique for added durability. Essentially, this type of hair extension features a weft secured by an ultra-thin silk base. These flat silk weft hair extensions are notably slim, measuring about 1mm in thickness and 10mm in width. The extensions are completely secure for attachment to your scalp, devoid of any silicone, and crafted from authentic human hair.
For those with fine and thin hair, flat weft hair extensions offer an ideal solution, particularly due to the presence of an ultra-thin silk piece affixed at the top of the hair weft.
This hair extension is offered in both machine weft and hand-tied weft options. It pertains to hair units where individual hair strands have been sewn or wefted together.
Hand Tied Wefts are meticulously crafted by hand, resulting in a much finer weft section compared to Machine Tied Wefts. Once affixed to your natural hair, Hand Tied Wefts lie flat against the scalp, ensuring a seamless and natural appearance.
Our Super Drawn
Hand-tied wefts
are precision-engineered to the highest standards. Each weft boasts exceptional strength, minimizing the risk of shedding. Additionally, they are less bulky and conspicuous. This meticulous design allows these hand-tied extensions to sit closer to the head. Hand-Tied Wefts enable a more authentic look and enhanced volume. These attributes render them an excellent choice for those seeking a more long-lasting (sewn-in) hair solution.
The difference between silk flat weft hair extensions and common weft hair
Return short hair: Silk flat weft hair extensions are a dream come true for perfectionists. They boast a flawlessly even surface at the top of the weft, void of any short hair. Furthermore, the hair strands are meticulously sewn and adjusted to ensure an impeccably polished appearance. In contrast, standard weft hair typically features short strands measuring around 0.8 to 1.5 inches at the top.
Weft thickness: The flat silk weft stands out as the slimmest option. This hair weft boasts a remarkable 30% reduction in thickness compared to other conventional weft variations. Once applied, it lays seamlessly against your scalp, resulting in an aesthetically pleasing appearance. On the other hand, machine wefts and hand-tied wefts adhere to the original hair system structure, rendering them thicker. However, hand-tied wefts are thinner than machine-tied wefts. The latter can appear quite bulky on the head and may become noticeable if not properly applied.
Learn More:
|
Posted on August 28 2020