Details
High Quality Virgin U Tip 
Hair Quality:
100% Remy Virgin Human Hair. Natural, Smooth, Soft, No Tangle, and Shedding Free. Can be Straightened, Washed, and Cut.
Hair Type:
Pre-bonded Keratin/ Nail-Tip/ U-Tip Fusion Human Hair Extensions.
Hair Texture: Natural Straight, and Have a Natural Wave When Wet or Left to Air-dry or Diffused.
Strand:
0.035 oz/1 Grams Per Piece, 1.76 oz/50 Grams Per Pack, 50 Pieces, 100Pieces
Full-body look:
100-150 Pieces are recommended for a full head
Pre-Sale:
 All 24 inches hair is made after order,  usually, it needs 3-4 weeks, once completed orders are sent next day delivery, Hope you can understand it.
Why Choose Ugeat Virgin U Tip Hair Extensions?
Virgin Hair is exclusively unprocessed and of flawless nature.

Virgin Hair has not been chemically processed in any way, meaning any perming, bleaching, color, dye, or harsh washes. Processed hair, on the other hand, has been altered from its natural state. This is done during the production process in order to produce a homogeneous product.


How to choose length?
How to wear U Tip Hair Extension?
Tips
U Tip hair extensions are called Hot Fusion hair extensions, So there are a few points to pay attention to during the installation process
1. Operate on clean hair without conditioner (conditioner may affect heart melting)
2. Do not wash your hair within 24h after installation
3. Be careful not to brush the root when taking care
Do U tip extensions damage your hair?
Ugeat U-Tip extensions are made from High Quality Keratin, which is a protein found in natural hair, therefore it is kind to the hair and will not cause damage.
1.Make sure that you are always gentle with your extensions this can also affect their lifespan.
2.Using proper hair care products will reduce tangles and be easier to handle.
3.We don't recommend blow-drying your extensions after every wash as doing this constantly will make them dry and more vulnerable to breakage.
Tips:
In order to improve the service life of our hair, we recommend not to rub when cleaning, try to use the top-down way.
How to remove Virgin U tip hair extension?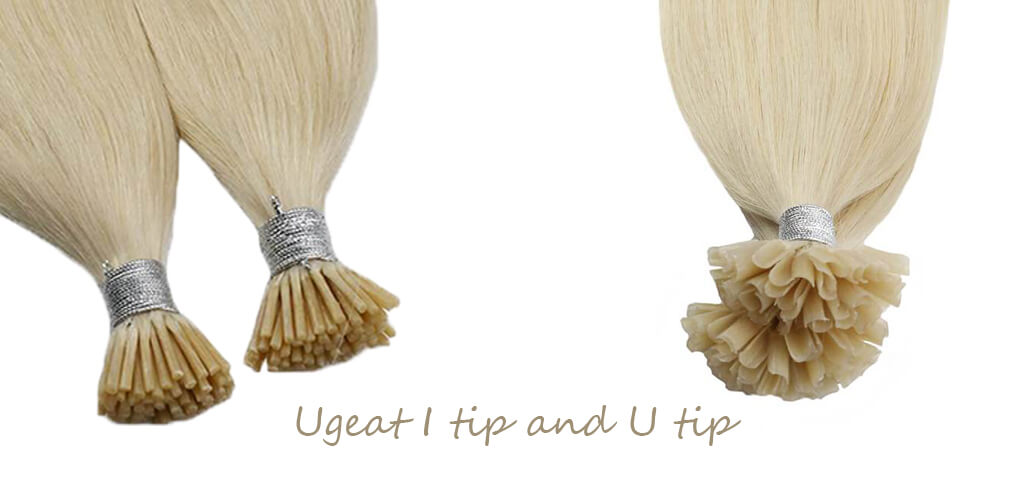 Typical I-tip hair extensions are attached to your hair using a Micro-Ring process that involves pulling your hair through a small metal loop in the extension base. This loop is usually made of copper or aluminum, which can cut into your hair's cuticles, causing damage. Pulling curly or coarse hair through these rings can also lead to tangling, snarling, and extremely tough removal, so Micro Rings may not be the way to go for women with "springierââââââââââ'?hair types.
U-tip and Flat-tip hair extensions can only be applied using a heating tool to melt the keratin. And while these tools only use a fraction of the heat created by normal curling and flat irons (and they are only near the hair for a few seconds at a time), you may have fragile or damaged hair that you'd like to keep as far away from heat as possible.