Human Hair U-tip Fusion Hair Extensions Platinum Blonde Color #60
Details
Ugeat® U tip Hair Extension Details
U tip/Nail tip is a type of human hair extension that is shaped like a U and is applied to the hair by heating up, it is also called Hot Fusion hair extensions.
Hair Quality: 100% Remy Virgin Human Hair. Natural, Smooth, Soft, No Tangle and Shedding Free. Can be Straightened, Washed and Cut.
Hair Type: Pre-bonded Keratin/ Nail-Tip/ U-Tip Fusion Human Hair Extensions.
Hair Texture: Natural Straight, and Have a Natural Wave When Wet or Left to Air-dry or Diffused.
Strand: 0.035 oz/1 Grams Per Piece, 1.76 oz/50 Grams Per Pack, 50 Pieces, 100Pieces
Full-body look: 100-150 Pieces are recommended for a full head
Why choose Ugeat U Tip hair?
How to Choose Length?
How to wear Ugeat U tip hair Extensions?
Tip:
U Tip hair extensions are called Hot Fusion hair extensions, So there are a few points to pay attention to during the installation process.
1. Operate on clean hair without conditioner (conditioner may affect heat melting)
2. Do not wash your hair within 24h after installation
3. Be careful not to brush the root when taking care
Does U tip extensions damage your hair?
Ugeat U-Tip extensions are made from High Quality Keratin, which is a protein found in natural hair, therefore it is kind to the hair and will not cause damage.
1.Detangle hair gently before washing. Comb your hair extensions with a spacious wired comb; Do not comb or brush the hair extensions while hair is wet.;
2.With warm water gently wet the extensions. Put shampoo with low or absolutely no sulfates on them.
3.Rinse out the shampoo. Apply conditioner. Once you've rinsed out the conditioner and they've dried,comb through the extensions so they're not tangled
4.Do not Rub or Twist hair when you wash them. Crush straight hair in a downward motion starting with the ends, work your way up to the roots.

How to remove U tip hair extensions?
1.Apply some remover to remove 
2.After applying the remover, use the Clamper to break the glue
3.Continue to break the glue
4.Slide the extensions out
5.Remove ant residue with a fine comb
6.Completed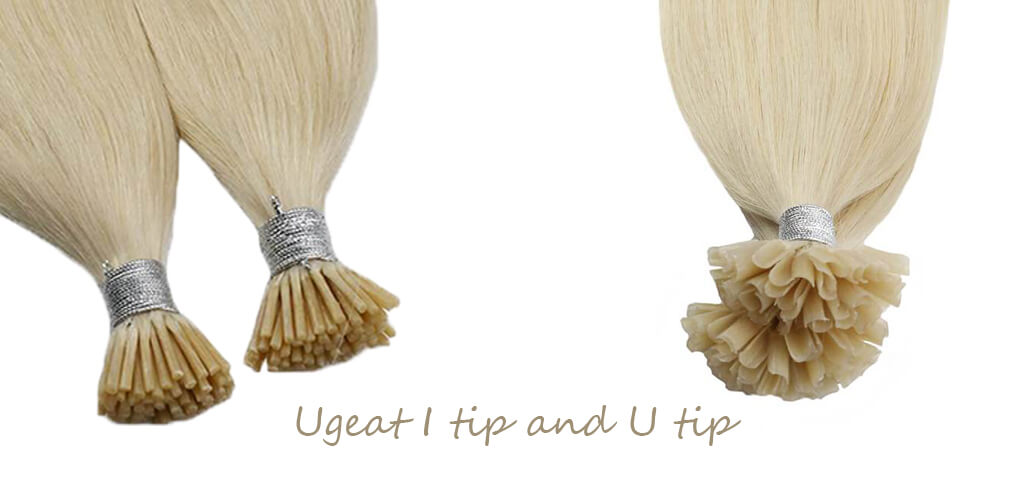 Typical I-tip hair extensions are attached to your hair using a Micro-Ring process that involves pulling your hair through a small metal loop in the extension base. This loop is usually made of copper or aluminum, which can cut into your hair's cuticles, causing damage. Pulling curly or coarse hair through these rings can also lead to tangling, snarling, and extremely tough removal, so Micro Rings may not be the way to go for women with "springier�hair types.
U-tip and the Flat-tip hair extensions can only be applied using a heating tool to melt the keratin. And while these tools only use a fraction of the heat created by normal curling and flat irons (and they areonly near the hair for a few seconds at a time), you may have fragile or damaged hair that you'd like to keep as far away from heat as possible.